New Services
Following the recent major upgrade of the outpatient department, services continue to be developed at Stamford Hospital for the benefit of local people and the wider community.
Some of the new services that are in the planning stage and will be offered include:
paediatric clinics, including for neonates and for allergy sufferers
more rheumatology clinics
fast track prostate diagnostic services on Greenwood ward
a one stop plastic surgery service
Future Development
The future development and plans for the site is still the subject of discussion. The possibility of the development of GP facilities is one option for consideration. The Fever Blocks, built in 1879, have Grade 2 listed status and it is accepted will have to be preserved. They are now being used increasingly for various functions including offices and meeting rooms.
Staff
The quality of the staff at the hospital is high. Some have worked here for many years and some of these long standing members of staff will be retiring in the next year or so. There is no shortage of good quality applicants to replace them, a considerable achievement in view of the national shortage of nurses.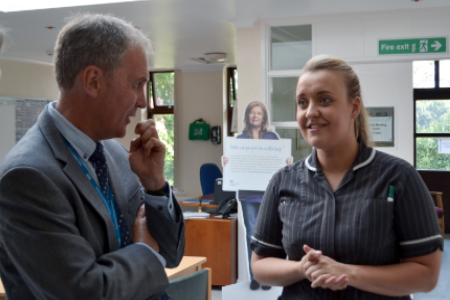 All departments remain busy with very positive feedback from patients. The new MRI scanner is particularly well used.
The Care Quality Commission
The Care Quality Commission (CQC) inspected all three Hospitals in the Trust in June 2018 and the report has just been issued. Stamford Hospital was graded "GOOD" in all areas [safe, effective, caring, responsive, well-led]. All the staff can be very proud of this achievement.